Who Won America's Next Top Model Cycle 14? ANTM Winner Krista White – Who Won America s Next Top Model Cycle 14? Last night Tyra Banks crowned Krista White as the winner of 'America's Next Top Model' Cycle 14.
Krista who has managed to win first photo consecutively for the past three weeks managed to narrowly beat Raina who was ill suited for the runaway according to the panel.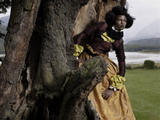 The judges explained that White who is extremely skinny (maybe too thin) has all the good all-around body, was more high fashion.Krista who is set to be an international model (just kidding) is the winner of the huge prize package that includes an opportunity to work with Wilhelmina Models, a Seventeen magazine spread and a CoverGirl contract.
But we know that truth,just like all her predecessors she will fall into oblivion and next week we will be saying Krista who?
What are your thoughts on the episode?
That's all we have for now on America's Next Top Model Cycle 14 winner.
*Sponsored Links*
Conversations