Kristy Dumps Tila Tequila "A Shot At Love With Tila Tequila 2″ Season Finale Video – Here is the video that shows Tila Tequila getting rejected by Kristy on last night's season finale of MTV's hit show "A Shot At Love with Tila Tequila 2".Kristy refused the key to Tila's heart and said:
"You love that I'm honest and that I'm true to my feelings and true about who I am." "If I take this key I'm not being true…..I am 120 percent sure of my feelings for you, but I am unsure about my experience with women. I've never done this before. I'm so scared to hurt you."
Tila cried and replied by :
"Why would you do that now?". "Why would you put me through all this process? … I feel humiliated."
You can watch the video after the jump.
Here are some pictures of Tila 'Tequila' Nguyen at MTV-TRL Studios today.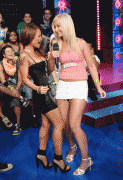 *Sponsored Links*
Conversations