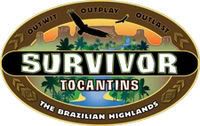 Survivor Finale:Survivor Tocantins – Survivor Finale /Survivor Tocantins Finale will air this evening on CBS.Tonight either Stephen, JT, Taj or Erinn will be going home with $1 million while the others accept few consolation prizes.So who is the winner of Survivor: Tocantins ? Well the host Jeff Probst is opening up.Here is what he said:
On Erinn:


"Erinn wasn't really ever a part of a strong alliance," "but she knew that and she was smart enough to make a big move and it's really hard to win Survivor without making at least one really big, make-or-break move."
"Even though she was an outsider on Timbira's tribe," "I think that if she gets to the final, she can make a pretty compelling argument about why, out of respect, she deserves that vote even though she betrayed the people on that jury."
"She is responsible for starting the turn that really flipped everything for Timbira and allowed three of Jalapao to make it to the final four, so that is hard to recover from."
On Stephen:
"Stephen is sneaky, but he's getting labeled as a sneak," "Stephen and JT have a great alliance because it is mutually beneficial. But if Stephen makes it to the final and he's honest, he could win.""He would have to come on strong and say, 'Now, I will tell you the truth. I am going to tell you why you should vote for me,' and he might be able to sway somebody like Coach, who prides himself on honor and Tyson, who has a strange code of ethics himself, and you can never predict what he's going to do because he will surprise you.""Where Stephen is going to have his hands full is he's not as likeable,""and as these last few days wind down, he has to convince people that he is more worthy than Erinn, Taj and JT to getting the million dollars. He's not doing anything different than anyone else is doing, but he's not wearing it as well."
On Taj:"Taj has really surprised me,"
"I didn't really think she was playing all that great of a game but she definitely surprised me by what a great job she did by hanging around and making the right choices about who to be around but never being too involved in who was getting voted out so that she was never really irritating anybody. And she lasted longer than I thought she would. No wonder Eddie George married her!""Taj may have earned herself some really deep goodwill from certainly Stephen and JT," "If she makes it to the final two, she could easily win this game. She is in a really good spot because she is not a physical threat, so why vote her out?" "When you come to the end of the game, you really want to win a challenge to ensure that you are in control," Probst says, "and if you don't win, you are relying on someone else to take you to the end. She is too big of a threat to take to the end. She probably is going to have to win an immunity challenge."
On JT:
"JT is playing the country boy and the connotation is, 'Oh, I'm just a simple boy from the country and just happy to be out here having fun and got to get back to my farm as soon as possible,'" "No. JT personifies street smart. He gets people and he's playing this game so well."
"I think for JT to get to the final, he has to win challenges," Probst says. "I just can't see a scenario for him to get there if he doesn't win. He's got a really fast and good read on people and knows how to play to them to give them what they want to hear."
"I can't believe he makes it to the final because he's too big of a threat, ability-wise, for Erinn, Stephen and Taj to let him go that deep."
Will Stephen, JT, Taj or Erinn be the winner of Survivor: Tocantins/Survivor 2009?
That's all we have for now on Survivor Finale:Survivor Tocantins.
*Sponsored Links*
Conversations