Seth Aaron Henderson Project Runway Winner – "Project Runway" season 7 finale aired last night with a shocking surprise. The tree remaining designers Emilio Sosa, Mila Hermanovski and Seth Aaron Henderson each presented their final collection to the panel which included guest judge Faith Hill.
Emilio called his collection "Color Me Badd" and it contained a lot of bright colors and hidden messages.
Mila said before presenting her work :"I put my soul in this collection, and I hope it shows" and apparently her soul is black and white with graphic all over.
Meanwhile Seth designed a Dita Von Teese inspired collection that was mainly red, yellow, black and gray which was accessorized with leather gloves, patterned leggings and cuffs.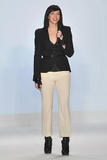 Emilio who was expected to be victorious, lost to Seth Aaron Henderson who said after winning:
"I came here to prove something to myself, and I did that. But I guess I also impressed a lot of people along the way."
So after after all the drama Seth won $100,000 and the very coveted title of "Project Runway" season 7 winner.
*Sponsored Links*
Conversations