Rock Of Love Bus Contestants Names & Pictures:Rock Of Love 3 VH1 – Here are the names and pictures of VH1's new reality show "Rock Of Love Bus" contestants.Bret Michaels will be back on Rock of Love 3 now called "Rock Of Love Bus" where he will travel with 20 ladies all over America for a month-long solo album tour, Rock My World, and he will pick one at the end.The Rock of Love Bus will air on VH1 January 4.
"Rock Of Love Bus" contestants names and pictures are below.
Ashley,Beverly,Brittanya,Constaandina,Farrah,Gia,Heather,Jasmineva,Kelsey,
Marci,Marcy,Maria,Megan,Melissa,Mindy,Natasha,Nikki,Samantha,Stephanie and Taya.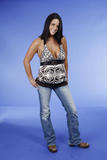 *Sponsored Links*
Conversations