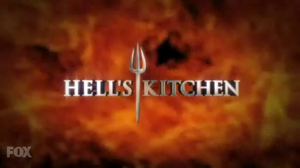 Hells Kitchen Season 5 Winner:Hells Kitchen Season 5 Finale – Hell's Kitchen 5 Season 5 Winner will be revealed next week. The winner will either be Danny Veltri, 23, who is an executive chef from Edgewater, FL or Paula Dasilva, 28, who is an executive sous chef from Coconut Creek, FL.The winner will become a chef at the Borgata Hotel Casino and Spa in Atlantic City, New Jersey with a $250,000 salary.Here is what happened on last night's episode:


* Setup: As with previous seasons, Hell's Kitchen will be split into two restaurants, with each contestant running their side and deciding the menu and decor. While Danny and Paula are away, their relatives will oversee construction — Danny's father and girlfriend for his restaurant; Paula's mother and sister for her's. Danny's restaurant will be called the "Velvet Hammer", and will feature a seafood-menu and decor. Paula's restaurant is called "Sunergy", whose decor includes candles on the wall; despite Paula insisting on using real candles, the fire marshal insisted on using fake candles.
* Challenge: Danny and Paula are flown back to the Borgata in Atlantic City, where they have 45 minutes to cook three dishes from the menus that they have created, with Borgata executives choosing the best dishes. All of this will be done within view of the Borgata's 500 employees, who will work under the winner. Danny has won the challenge, two dishes out of one.
* Award: Upon returning to Los Angeles, Danny will have first choice of six returning contestants who will help Danny and Paula out.
* Teams: Contestants returning are Andrea, Ben, Carol, Giovanni, LA and Lacey. Danny has chosen Ben, Giovanni and Carol; Paula chooses Andrea, LA, and Lacey.
That's all we have for now on Hells Kitchen Season 5 Winner:Hells Kitchen Season 5 Finale.
*Sponsored Links*
Conversations