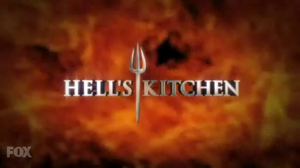 Hells Kitchen Season 5 Episode 11 – Hells Kitchen Season 5 Episode 11 aired on the Fox Network tonight.Here is a detailed summary of the episode.
* Prologue:
Ramsay did not shut down Hell's Kitchen, as stated in the previous episode. Instead, the contestants were flown to the Borgata Hotel and Casino for a multi-day trip to see their potential future place of employment. After touring the hotel, they sit down for dinner with the Borgata's executive chef. Robert left the table after a few minutes, complaining of chest pains. He was taken to the hospital for observation and tests.
* Elmination:


After a few days of waiting Robert returns to Hell's Kitchen. He reports that he has a heart condition and leaves Hell's Kitchen because of his condition. Chef does remark that he had the possibility to win after he says his final farewells to the final four.
* Challenge:
After visiting Borgata the final four must present a dish that they would serve in their restaurant, should they be the winner of Hell's Kitchen. Chef is impressed by Danny, Paula, and Andrea's dishes and he claims Andrea the winner.
* Award / Punishment:
Andrea has been promised a spot in the top three. No punishment is given. Ben, Danny, and Paula are upset that Andrea, whom they have outperformed, will last longer than one of them.
* Nominees for elimination:
Andrea, Ben, Paula
* Elimination:
Only Robert was eliminated prior to service.
* Chef Ramsay's Reason:
Chef Ramsay confirms Andrea's safe since he is a man of his word and Ben is safe since Ramsay states that he performed better than Andrea.
That's all we have for now on Hells Kitchen Season 5 Episode 11.
*Sponsored Links*
Conversations