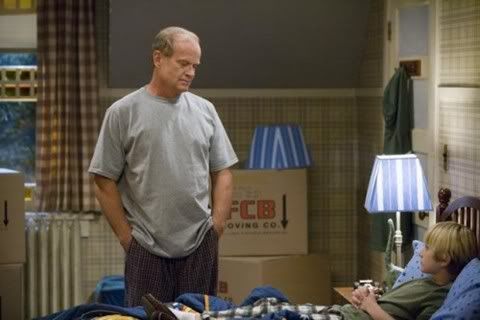 Hank Episode 1 (Season 1 Episode 1) : Hank Pilot – This evening the alphabet channel premiered a new comedy called "Hank" in which star Kelsey Grammer,David Koechner,Melinda McGraw and Jordan Hinson.It is nice to see Kelsey Grammer back but will he finally manage to move beyond Frasier? Here is a recap of the first episode/"Pilot" written by Tucker Cawley and directed by Andrew Weyman.


A big shot entrepreneur in the sports retail world, Hank Pryor, and his wife, Tilly were living the high life in New York City until he is forced out of his CEO job and has to downsize and move his family back home to the small town of River Bend, Virginia.Tilly spends her time complaining how she regrets the wealth while Hank tries to relaunch his career he discovers that his brother-in-law, Grady is mean spirited and delights in his misfortunes. Hank tries to bond with his son Henry but he prefers to play with action figures than toss a baseball with his dad, and daughter Maddie, a hip, New York City teen hates him.
ABC is really hoping "Hank" will capture every American ,they are forever changing the cast so it can suit the entire country.Obama's famous 'Yes We Can' motto is a leitmotiv while Sarah "Small Towns" Palin is very present in every scene.The series has yet to find it own and real identity.
That's all we have for now on Hank Episode 1.
*Sponsored Links*
Conversations