Britney Spears Heather Morris: Pictures From Upcoming Episode of Glee – Britney Spears is set to join the cast of the hit TV series 'Glee' sometime during the show's upcoming second season.
Spears' appearance started out as a bit of a rumor, with her character being confirmed in early July. Speculation started to swirl about who would get the chance to embody the pop star, with many hoping that it would be cast member Dianna Agron.
However, as recent pictures show, it looks like it will be Heather Morris taking on the role of Ms. Spears. Interestingly enough, her character's name is Britney, an irony that was surely not lost on Ryan Murphy, the show's creator.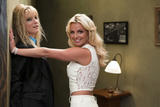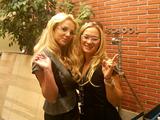 So far, the photos that are surfacing show Spears and Morris recreating the music video, "Me Against the Music", which originally featured Madonna. However, this time Morris is playing the role of Britney, and Madonna's part is being taken over by Spears. The original music video has the two pop stars kissing, a detail which has not yet been confirmed for the 'Glee' episode.
Other photos show Spears dressed up like a teacher, or some sort of educational role. Perhaps there is a possibility of a …"Baby One More Time" remake happening.
*Sponsored Links*
Conversations