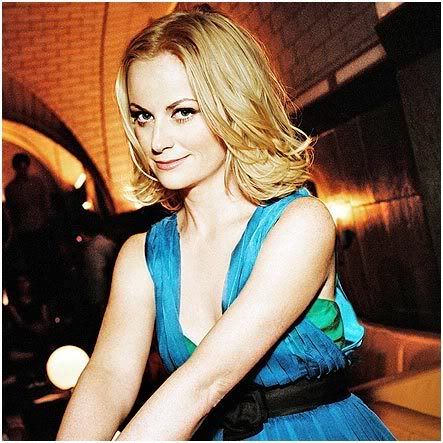 Amy Poehler NBC Sitcom Plot – NBC has sent out a press release with endless details about Amy Poehler's untitled sitcom from "The Office" executive producer Greg Daniels.The storyline is as followed:


The premise of NBC's untitled Amy Poehler sitcom from "The Office" executive producer Greg Daniels has been revealed. NBC put scripts to the first episode in TV critics' press kits with our names emblazoned across every page as a preventative against online posting.

The new series, still untitled, will be filmed in the same mockmentary style as "The Office" but will be set in the world of local government. Cameras follow Leslie Knope (Poehler), described as a "mid-level bureaucrat in the Parks and Recreation Department of Pawnee, Indiana."
The script:
The script is pretty hilarious. Poehler's character is sort of a cross between Tracy Flick ("Election") and Michael Scott. It goes a little overboard with the guys leering at Rashida Jones toward the end of the pilot script, but I really enjoyed the Aziz Ansari's explanation of how he got the name "Tom Haverford" after being born as Aziz Abdul Al'Rahman: "The cold hard fact is that dark-skinned people with funny-sounding Muslim names just don't make it very far in politics. (Beat) Yes, OK, fine, Barack Obama, Why does everyone always bring up Barack Obama? That's one counter example."
The cast:
The lead role seems well-suited for Poehler and the type of humor is very much in style with "The Office." One never knows about a series until it is actually filmed — production stars Feb. 19 — but at least the script for this one seems solid.
In the show, Leslie attempts to improve her town and advance her career by helping a local nurse (Rashida Jones, "The Office") turn a construction pit into a park. They're opposed by defensive bureaucrats, NIMBY neighbors and developers. She's helped and hindered by Tom Haverford (Aziz Ansari, "Human Giant," "Scrubs"), another government official.
In the process, Leslie hopes to inspire her bored college intern (Aubrey Plaza) and reach her goal of becoming the first female President of the United States.
Amy has already shoot few episodes.What do you think of the concept?
*Sponsored Links*
Conversations