America's Next Top Model cycle 15 episode 7 called Francesco Carrozzini aired this evening on The CW.
In this week's episode there was a little twist – the remaining contestants were invited to The Grammy Museum in Los Angeles where Neil Portnow, President and CEO of The Recording Academy told them that they were going to be paired up and they had had ten minutes to pick an outfit for the other and the winner would become a "Grammy Girl" during the 53rd Annual Grammy Awards that will be held in February 2011.

Of course all went wrong when the girls arrived at the store – Kayla could not get the gown ball that Liz wanted, Kendal found a dress that was way too short for Chris meanwhile Ann selected a gown that was too big for Chelsey.
To make a long story short Kayla and Liz were selected as the winning team and Kayla was picked to be the Grammy girl.Liz was not happy with the lost so she got drunk and started crawling around the house.

As for this week's photo shoot the models were asked to portray an iconic fashion designer for photographer Francesco Carrozzini, who is also this week's guest judge.Here is what the girls decided: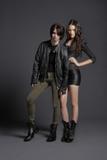 Ann selected Alexander Wang
Chelsey went for Carolina Herrera
Chris picked Betsey Johnson
Esther tried to be Christophe Decarnin
Jane selected Marc Jacobs
Kayla wanted to be Vivienne Westwood
Kendal picked Vera Wang
Liz attempted to be John Galliano
Liz Williams did a great job as John Galliano and was the first to be called-out.
The bottom two included Kendal Brown and Esther Petrack with Kendal Brown being eliminated.
What did you think of the episode? Do you think Ann will win?
That's all we have for now on America's Next Top Model cycle 15 episode 7.
*Sponsored Links*
Conversations